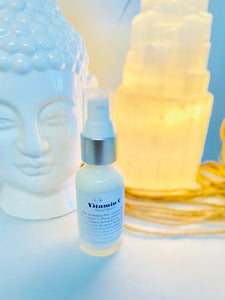 Vitamin C Serum
Regular price $17.00 Sale
Our facial system is effective yet gentle enough for mature, aging and sensitive skin types with results you can see. Within 1-2 weeks your skin will feel softer, smoother and more radiant. With continued regular use you will see a reduction in fine lines, dark spots, acne and blemishes.
Serum: This light, super-fine silky serum brings high concentrations of  vitamin C  directly to the skin on a daily basis, helping to support, balance, brighten and revive tired, dry, dull, listless skin.
Organic Aloe Leaf Juice, Glycerin, Rosehip Seed Oil, Emulsifying Wax, Vitamin C Ester, Vitamin E, Sunflower Seed Oil, Phenoxyethanol, Vitamin C, Organic Cranberry Fruit Extract, Organic Red Raspberry Fruit Extract, Organic Blueberry Fruit Extract, Organic White Willow Bark Extract, Organic Alcohol, Organic Neem Seed Oil, Organic Rosemary Leaf Extract, Organic Sunflower Seed Oil, Tetrasodium Glutamate Diacetate
Instructions: Apply cleanser to hands and gently cleanse your face and neck every morning and night. Always cleanser in circular motions in an upward direction. Rinse well. Washcloths are optional. Apply toner to dampened skin. You may use a cotton pad to remove access dirt and makeup. Blot excess moisture. Apply a pea sized amount of out Vitamin C serum in an upward motion to your face and neck. Finish with a pea sized amount of our Vitamin C Creme. These products are very concentrated so very little is needed. For extra dry skin you may add the Dream Serum to your regimen.