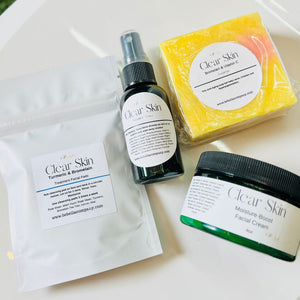 Clear Skin Facial System
Regular price $75.00 $65.00 Sale
The Clear Skin Kit contains everything you need for a beautiful and clear complexion. Our Facial Treatment Pads are designed to be used 3 times a week, with our Vitamin C Toner to be used daily after cleansing. We also offer a Bromelain and Vitamin C Facial Bar for use when not using Treatment Pads, as well as a Moisture Boost Facial Cream that includes Jojoba and neem Oil for added nourishment. All of these components work together to reveal a clearer, brighter complexion. When used regularly and as directed, you can expect to see results in just 7-14 days. Get ready to experience the best version of your skin with our Clear Skin Kit!
For best results, use the Clear Skin Kit twice a day, every day. Use the Facial Treatment Pads, Vitamin C Toner and Moisture Boost Facial Cream in the morning and the Facial Bar and Moisture Boost Facial Cream at night. With consistent use, you'll be on your way to a brighter, clearer complexion in no time!
Anti-inflammatory - Our advanced facial system soothes and calms skin, providing fast relief to redness and puffiness. Featuring the power of vitamin C and bromelain, it helps reduce inflammation to give you radiant skin.
Hydrating - Keep your skin hydrated with Clear Skin Facial System. The products offer a powerful combination of antioxidants, vitamins and minerals to lock in moisture and keep your skin feeling soft and supple all day.
Fights acne and hyperpigmentation - Say goodbye to stubborn blemishes! Our facial system is designed to help diminish dark spots, acne scars and other marks on the skin for a clearer complexion.