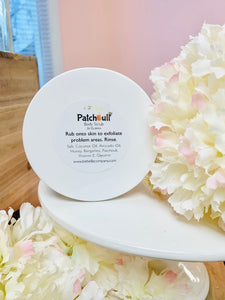 Patchouli Eczema Body Scrub
Regular price $22.00 Sale
Patchouli Body Scrub provides fast relief for itching and rashes due to Eczema, psoriasis and other dry skin related symptoms. Patchouli Body Scrub helps remove dead skin cell to reveal a more smooth texture. This Scrub is a base of sea salt, chamomile infused organic oils with healing herbs, essential oils and raw honey. Sea salt is antibacterial and helps balance the PH of skin.
DO NOT use on open wounds!
Instructions: In the shower, mix the contents of the jar with your finger to evenly distribute the oils and then apply to wet skin. Massage gently, polishing away dull skin cells. Rinse well and pat dry. Use caution as the oils can make shower and bath surfaces slippery.
Ingredients: 
Sea Salt, Coconut Oil, Avocado oil Vegetable Glycerin, Vitamin E, Honey, Patchouli, Bergamot