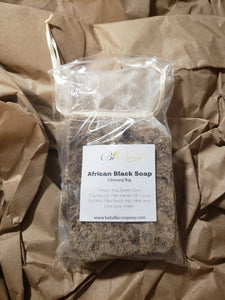 African Black Soap Bag
The original African black soap made in Nigeria conveniently packaged in a cloth bag for ease of use. This soap is great for all skin types on your face and body. Helps to remove skin irritations and blemishes caused by acne. Suitable for all skin types.
Black soap can be used for the treatment of dry and rough, oily and moderate skin. Very beneficial for reducing the discomforts that are associated with skin diseases like psoriasis and eczema. Regular use of black soap delays aging on the skin and helps to remove fine lines and facial wrinkles.
Made with Shea Butter to keep your skin feeling silky, smooth, and supple. Soap comes in 4 to 5 ounce weighted lather bags for easy storage and maximum bubble results. Best to use this soap as a personal item IN the cloth bag as it may be crumbly and lose shape.
The best way to use the African black soap is within the lather bag for personal use. Hang dry in between uses. If it is for shared use, wet the soap within the bag & form it into a solid shape. Hang dry. Then remove bar from bag. However it may crumble apart more that way. Hang dry after each use.
Anti Bacterial

Great for Eczema, Psoriasis, Dermatitis

Nourishing

Moisturizing 
Ingredients: Honey, Shea Butter, Osun (Camwood), Palm Kernel Oil, Cocoa Pod Ash, Palm Bunch Ash, Aloe Vera, Lime Juice, Water