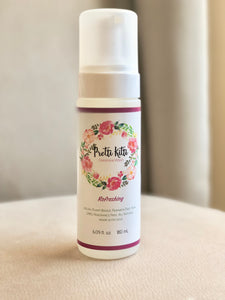 Pretti Kitti Refreshing 6oz
Regular price $13.00 Sale
Be Bella Company's all natural chemical-free wash is a healthy alternative to your traditional feminine cleansers. The ultra soft foam wash is designed to gently cleanse the vaginal area, prevent sweat and keep you odor free. Pretti Kitti Refreshing wash will provide that extra clean feeling when you need it most.
INSTRUCTIONS: 

Shake bottle
Pump a generous amount of foam in your had
Cleanse the entire vaginal area
Rinse 
Foam wash will not be "sudsy"

For a more 'sudsy' alternative, try our Ultra Wash!
Ingredients: 
Distilled water, saponified coconut oil, vegetable glycerin, witch hazel, rose water, apple cider vinegar, food grade peroxide, peppermint and orange essential oils.
Tingly Kitti