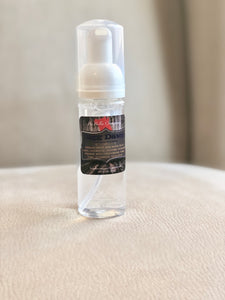 Bigg Dawg Men's Personal Cleanser Travel 2 oz
Bigg Dawg Men's Personal Cleanser is used primarily to remove soap residue from your genitals so that you will not cause irritation to your partner.  The ultra thick foam wash will also keep you clean, dry and odor free. 
COMPLETE YOUR NORMAL CLEANING REGIMEN.

SHAKE BOTTLE AND APPLY 3-5 PUMPS OF BIGG DAWG TO YOUR HAND.

RUB THE FOAMING WASH INTO YOUR GENITAL AREA.

BIGG DAWG WILL NOT BE SOAPY AND WILL DISSIPATE AS YOU CLEANSE.

RINSE AREA WITH WARM WATER AND ENJOY.
Ingredients: 
Distilled water, saponified coconut oil, vegetable glycerin, witch hazel, rose water, apple cider vinegar, food grade peroxide, 
eucalyptus, cedarwood, lemongrass and ylang yang essential oils.